The new LEDCO 2021 operational catalog has arrived, full of news and product improvements.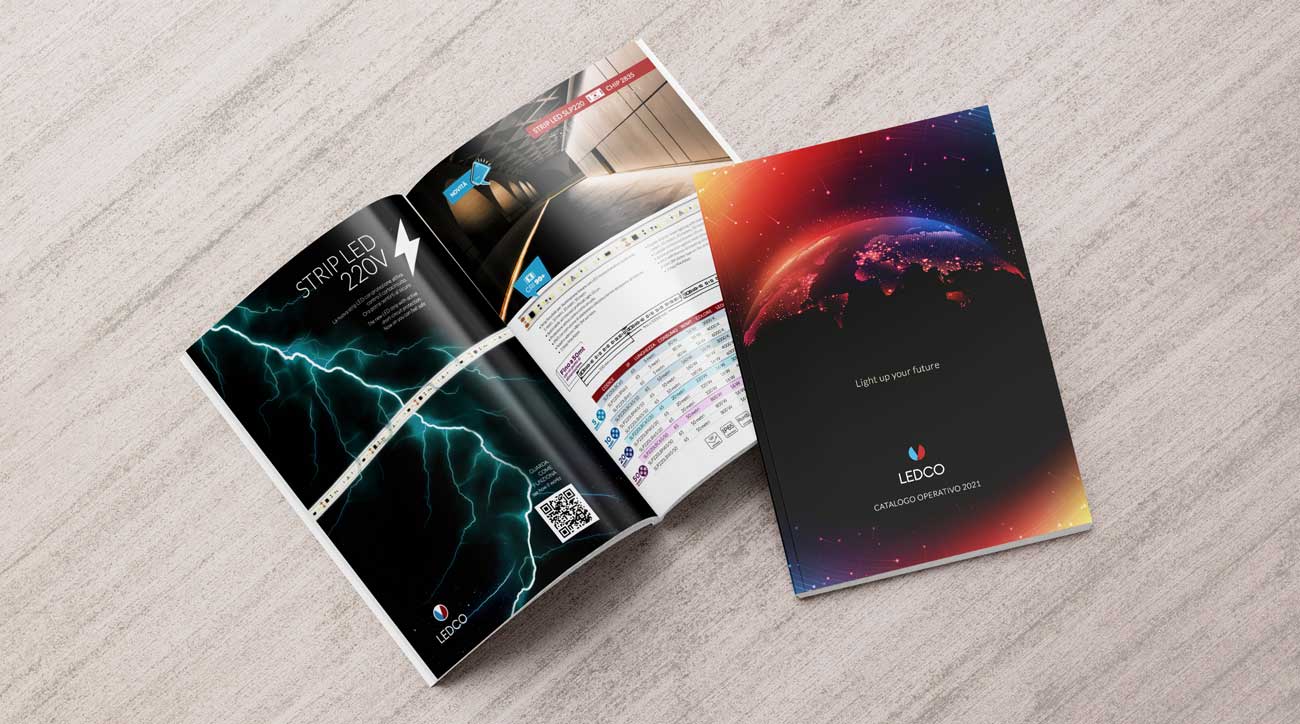 In the new LEDCO operational catalogue, we find several novelties, including the new Strip Led 220 Volt with active protection against short circuit. In case of short circuit on the plant, strip will remain completely intact with the possibility of working safely for the workers.
It is possible to choose the metre in the different reels available from 5, 10, 20 or 50 metres.
Another important novelty is the strip Led 500, with its 528 LEDs for perfectly homogeneous lighting suitable for commercial and institutional environments.
For those looking for a uniform light and the need to maintain reduced consumption the Led 180 strip has been introduced, with 180 chips led per metre and only 14,4 w / mt of consumption.
Our attention to energy savings continues with the new strip Led 200 Energy Saving availavle in version of 20 metres, energy saving and convenience of use.
The complicated year 2020 has led us to find new solutions for the sterilization of environments and objects of our daily use, from this requirement the new line of UV products, strip led and LVC and UVA led.
The profile section of aluminium presents several important novelties:
The introduction of new GOLD, BRASS and BROWN, from now it will be possible to request new colours for aluminium profiles to embellished and make illumination more homogeneous with interior design of environments.
The new dual-release wall profile PR750 with the possibility of being used as a suspension.
The new line of "plasterboard" profiles, PR110 and PR105 are inserted into plasterboard in order to facilitate their installation.
The two new black covers, the PR910/NE and PR911/NE.
The dimmer and accessories section has been enriched by the new downstream transformer for magnetic track, new dimmers DALI and dimmer 48 Volt and the innovative Class II Slim power supply.
Implementations on existing products
We added the IP65 version of our strip Led 120 Energy Saving and the IP20 version for the strip Led RGB.
From today it is possible to choose between warm or natural light for the strip Led RGBWhite, with the introduction of chip 4000K.
The Dynamic White Strip Led was improved by exchanging 2200K led chip instead of 3000K, increasing the choice of colour temperature.
From today, all of our monochrome strip has a CRI90 + chip and all strip-led strip is certified 3 Step MacAdam.
The magnetic track commercial spots and bars were implemented with CRI95 chips and the 5W spot with led COB chips.
We continue to improve our products thanks to the ongoing investment in research and innovation, to ensure that all our customers have a wide choice of quality products.