2021 continues full of news with new lighting solutions that are added to the existing LEDCO products range.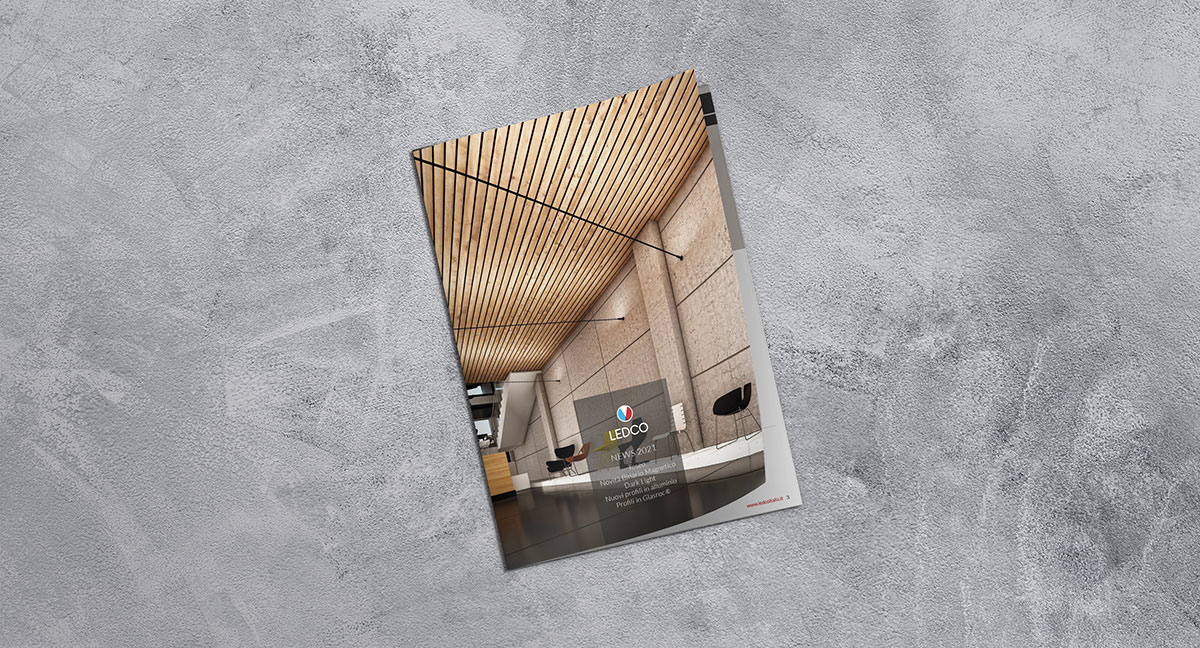 The leading product among the latest innovations is TESEO, the elegant lighting solution tensed between two walls.
With just two points it will be possible to make the lighting of unique and special environment.
With an elegant and minimal design, it leaves ample room for the designers' imagination.
The LINE48 magnetic track brings two important additions, the new recessed retractable track with fins and the new line of Dark Light lighting bodies: the LED bar that combines the discretion of an LED bar with the precision of illumination of a spot.
We have introduced the new measure of the 1 meter track, for all its variants, recessed, suspended and retractable.
From now on it is possible to choose the retractable transformer for 100W or 200W magnetic track and choose between the two different colors white or black.
It is possible to request the double switching on of the devices so as to switch on the lighting bodies chosen for the magnetic track in two separate blocks.
The new FL513 is added to the family of Flex Custom LED strips.
At the beginning of 2021 we introduced the LINE IN line, the comfortable pre-recessed aluminum profiles in plasterboard sheet, to complete the line we have added the variant for outdoor lighting, the PR110 pre-recessed profile in Glasroc®, the innovative fibronized gypsum sheet specific for outdoor applications. Reinforced on both sides by fiberglass fabric with UV-resistant coating and gypsum core containing special additives, Glasroc® guarantees high performance in humid environments and is perfect for outdoor lighting with concealed recessed profile.
The range of aluminum profiles for flat surfaces expands with the introduction of the new PR101 and PR115.
For floor lighting, we have introduced the new PR115 profile with a walkable screen PR911/F (static load up to 150kg) capable of containing the LED strip from 30 meters to 48 volts, to create long lines of continuous light without voltage drops.
To complete the novelties of this mid-year we find the CT800, the new Gateway Multizone Pro, able to connect the touch panels in radio frequency to adjust the lights in the different rooms and allow the control via smartphone with a dedicated app.
In summary, here are the latest news for this year:
TESEO – tense lighting
Extension of the LINE48 Magnetic Track range
Dark Light
Retractable transformer for 200W track
Strip LED Flex Custom FL513
Profiles in Glasroc®
Aluminum profiles PR101 and PR115
Walkable profile PR115 with screen PR911 / F
Multizone Gateway Pro CT800