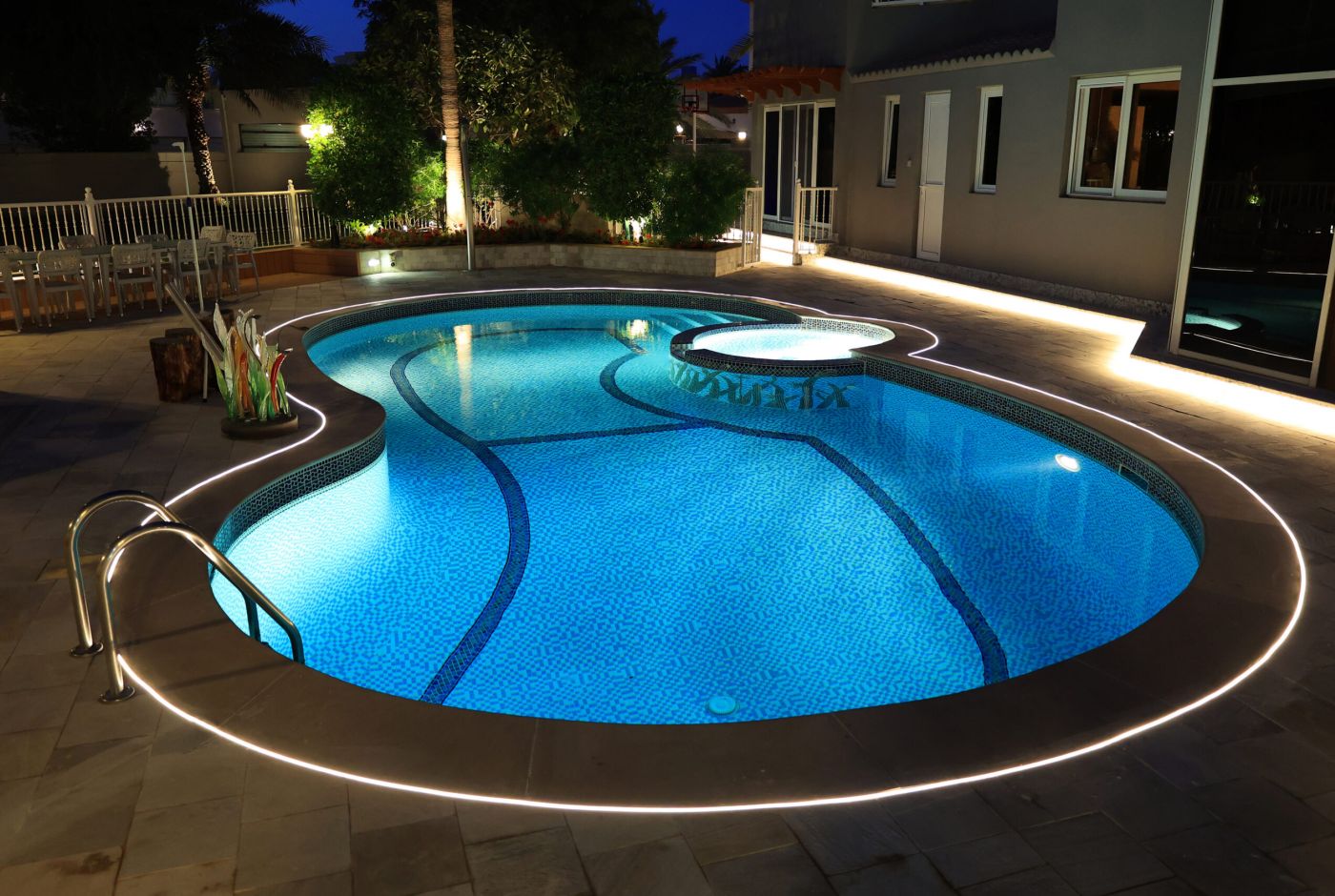 Illuminating under the water with colored light amazes and relaxes. Fountains and water features represent an element of timeless charm and wonder of LED illumination for swimming pools, which has no comparison in embellishing an environment and giving it a particular charm.
Flexible or rigid IP68 immersion LED products can be customized to create shapes, highlight architectural profiles and illuminate swimming pools or fountains. The series is available in different shades of light, dimensions and with different mounting accessories to facilitate the installation and maintenance of the LED strip for swimming pools.
IP68
Thanks to the specific construction, common to all of the products of the IP68, the flexible linear elements are watertight and suitable for use in outdoor and in humid environments, having passed the approval tests that give the product the IP68 degree ideal for LED swimming pool lighting.
Product types
The IP68 LED products for linear lighting of pools and fountains offer the designer the freedom to create the most varied shapes thanks to the variety of standard light: various shades of white, dynamic white, RGB and RGBW.
Here are our products:
STRIP LED
Suitable for outdoor mounting and immersion even in chlorinated and salt water.
The new double silicone protection technology makes it suitable for the heaviest uses.
RIGID BARS
Suitable for outdoor mounting and immersion even in chlorinated and salt water.
They have a polyurethane resin filling for better light diffusion with anti-UV treatment.
Safety
Pool lights have a strong resistance to the corrosive action of saline agents present in the water. The products, were subjected to specific tests, resisted the aggressive action of chlorine.
Exposure to water, even salty and chlorinated, does not cause changes over time, fully maintaining the functionality of the LED strip. The installations in chlorinated water are completed by the use of specific cables suitable for permanent immersion in accordance with EN 50525-2-21 and EN 50363-2-1.
All IP68 series products are equipped with a special protection against UV rays, which guarantees resistance to yellowing over time.
All strips are low voltage and operate at 12-24Vdc. Without direct connection to the mains supply, the products are therefore safe since they operate from less than 75 Vdc as specified in the Low Voltage Directive 72/23 / EEC.
Details
All the strips LEDS we produce are compatible with low voltage dimming devices.
Potentiometers, DALI and DMX signal dimmers are the main control devices.
LEDCO products for pool lighting are guaranteed for 2 years.